See on Scoop.it – Social Media for all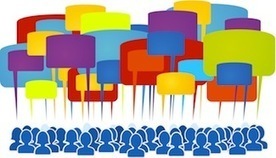 With active users nearing 700 million on Facebook, exceeding 300 million on Google+, and hitting 200 million on Twitter at the start of 2013, there's no
Gaurav Pandey's insight:
"Social media marketing provides a direct link to followers of a brand and prospective customers, but is not inherently a business-transaction medium. Social networking sites still need to be used in the way their name implies: for interacting with others in order to build relationships and form communities."
The biggest flaw I find in the way many companies approach social media is that they forget that at the end of the day it's about leveraging social media in their marketing strategy and not making social media their marketing strategy. We see promotions on Facebook and other sites from companies which don't directly sell on these channels. No prizes for guessing such strategies are adopted to inflate the follower count, this however is a flawed strategy as essentially these businesses don't own social media.
These channels should be used to build relationships and for meaningful communication with thier customers and unless that sort of consumer – business interaction happens no matter what a company's follower count is, it's adds very little to the bottom line at the end of the day.
So while the social media stats we come across are indeed startling, a lot of it is just an illusion created by a mindless chase for followers, without any real, two-way interaction.
See on www.business2community.com