See on Scoop.it – Social Media for all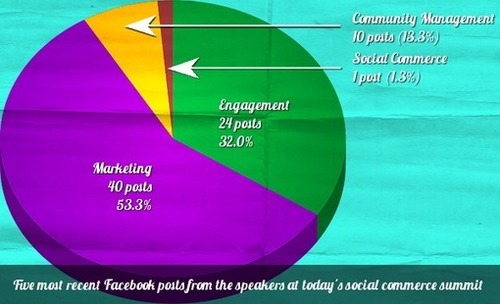 Robin Bresnark explains why social commerce is supposed to generate direct sales and how brands are confusing this with other social initiatives
Gaurav Pandey's insight:
Any kind of consumer behaviour is psychologically motivated. While "engagement" may not directly mean social commerce, it's certianly the way to go if one is serious about understanding the needs of their clients better.
When engagement is followed by direct questions and a call to action, the rewards will come.
One has to understand that when a customer decides to engage with your brand online, and by that I don't mean a simple click of the button, but a two way communication, he is taking out time to do so by entering an environment which is primarily your turf. That said, for traditional social media channels engagement would always precede sales. We are all aware of various ways to keep build engagement so I am not going into details here. Simply put there are traditional ways such as developing a bond through repeated dialogue and then there are agressive steps such as offering big discounts to repeat users etc.
The next steps from here could be offering attractive discounts on social platforms, coupled with sales drivers like credible consumer reviews. Again, I can't stress enough the importance reinforcing your brand as a credible and trustworthy one, with no good old bait and switch trickery once the customer commits to buy. I'd say sites like Groupon and Living Social are good examples of Social Commerce, where brand image coupled with urgency and a secure on site transaction platform drives consumers to action.
See on socialmouths.com