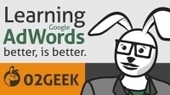 Learning Google AdWords Better is Better. Learn the secrets the pros dont want you to know.
Gaurav Pandey's insight:
Great new course on Google Adwords from the guys at udemy.
Do check it out even if you are familiar with adwords, you are sure to discover something new. And best of all, it's free.
See on www.udemy.com